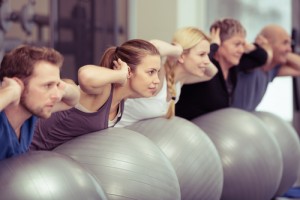 Use the fundamentals of traditional Pilates Mat techniques integrated with group fitness techniques to strengthen core muscle groups without hurting your back.
In a group fitness setting, the Fitness Plaza's Pilates classes will help your physical, as well as mental health.  A major focus of the practice will be on improving flexibility, coordination, and balance.  Strengthen your core muscles and tone your body while you build endurance and focus on your breathing.
The Fitness Plaza offers a variety of traditional Pilates class as well as combination class.  To further your Pilates practice try these:
PiYo: Combines Pilates and Yoga techniques but speeds everything up, including your results. Dynamic flowing sequences burn serious calories while lengthening and toning your muscles. PiYo will help give you dramatically visible results.
Piloxing: A high energy fusion of Pilates, boxing & dance. Transform yourself into a tough boxer, graceful ballerina & a hip street dancer. 1/2 lb. weighted gloves which adds a muscular & cardio challenge are available at the front desk.